KTM's Adventure Models: A Short History
1 year ago | Words: Andy Wigan | Photos: Marco Campelli, Sebas Romero
So you've caught our initial video feedback about KTM's all-new 890 Adventure R – an evolution of the brand's landmark 790 Adventure R we first tested in Morocco two years ago. But how does this 'mid-capacity' 890 Adventure R fit in to KTM's lineage of 'Travel Enduro' bikes? For answers, we cast our minds back to 1997, when the "Adventure" model moniker began for KTM, and track the evolution of the brand's pivotal Adventure models ever since…
1997: 620 ADVENTURE
In terms of the name, the release of the KTM 620 Adventure in 1997 was the model that started the Travel Enduro story for KTM. Derived from enduro and inspired by rally, the LC4 single-cylinder engine machine looked a close match for its Dakar stage-winning stablemate. A competition-developed chassis loaded with high-end components provided pure off-road ability mixed with distance capability, thanks to a large fuel tank and reinforced subframe for fixing cases to carry much more than the essentials. Completing the authentic 'rally-bike' feel, it featured two programmable tripmasters and a roadbook holder was available on request, as well as a remote control for the instrument cluster and a GPS connection.
1998 – 2007: 640 ADVENTURE

After just a year, a raft of changes saw the model become the KTM 640 Adventure with a capacity rise from 609cc to 625cc and with the main visual difference being the removal of the twin, low-slung exhausts. They were re-homed neatly under the seat for better ground clearance. The model remained in production for 10 years, bowing out in 2007.
2003 – 2006: 950 ADVENTURE

The next landmark moment for KTM's Adventure range was once again forged from proven competition performance in the world's toughest race. KTM's first twin-cylinder engine – the powerhouse LC8 75-degree V-twin – propelled the KTM 950 Rally to Dakar success in 2002, raced by the late Fabrizio Meoni. The following year, using 75% of the same parts, the KTM 950 Adventure and higher-seated KTM 950 Adventure S were introduced for customers.
2006 – 2012: 990 ADVENTURE

After four years of production, 2006 saw the introduction of the KTM 990 Adventure with many revisions, including a capacity rise to 999cc and fuel injection. Over its seven-year production run, the 'S', 'R' and special-edition 'Dakar' models were also offered with differing seat heights, components and power levels. The 990 was also the first KTM to feature ABS.
2013 – 2016: 1190 ADVENTURE & 1190 ADVENTURE R
The arrival of the KTM 1190 Adventure and KTM 1190 Adventure R in 2013 heralded a new era of technology and versatility for KTM in the Travel Enduro segment. Sophisticated electronics – married to improved ergonomics and a radically more powerful LC8 engine – introduced more riders than ever to KTM's unique approach to adventure riding, on and off-road. Just a year later, included on these bikes was 'Cornering ABS' – and according to KTM, "The premier of this system created a major milestone in motorcycle safety".

2015 – 2017: 1290 SUPER ADVENTURE
Adventure went 'super' in 2015 with the addition of the KTM 1290 Super Adventure, later becoming the 'T' in 2017. This model boasted an incredible 160hp from its bigger 1301cc engine, a huge 30-litre fuel tank, and provided the debut of many new electronic rider aids – including cornering lights, cruise control, motor slip regulation (MSR), hill hold control (HHC), automatic indicator turn reset (ATIR) and semi-active suspension.
2015 – 2016: KTM 1050 ADVENTURE
Joining the same year was the KTM 1050 Adventure, providing 95hp of pure, undiluted Travel Enduro fun in a versatile and agile chassis. This 1050, however, had limited appeal to the (off-road-centric) Australian market, because it was not available in a version with spoked rims.

2017: 1290 ADVENTURE S & 1290 ADVENTURE R
The year 2017 saw the introduction of four new models to the range, led by the KTM 1290 Super Adventure S and KTM 1290 Super Adventure R. These took the best of KTM's electronic developments, adding a TFT display, Quickshifter+, full LED headlight with integrated cornering function and the option of the KTM My Ride system – providing smart phone connectivity for call handling, music playing and turn-by-turn satellite navigation.
2017: 1090 ADVENTURE R
The same year, off-road adventure riding went to new extremes with the arrival of the KTM 1090 Adventure R – a bike that could create its own path with the willingness of its rider.
2017 – 2018: 1090 ADVENTURE

Joining them was the KTM 1090 Adventure to satisfy more street-biased riders, offering a power output of 125hp matched to sophisticated electronics and a capable chassis.
2019: 790 ADVENTURE & 790 ADVENTURE R
The creation of the compact LC8c 799cc parallel twin-cylinder engine offered KTM engineers a blank canvas to create an all-new chapter in KTM Adventure history. Essentially, it was a lighter, more manageable and more affordable 'mid-capacity' version of their 'maxi-enduro/travel' machines, with rally-inspired ergos and fuel tank, and a sophisticated electronics package. The 790 Adventure R soon established itself as the most performance-oriented and off-road capable mid-weight travel enduro bike on the market.
2021: 890 ADVENTURE & 890 ADVENTURE R
Packing another 90cc (achieved through added bore and stroke), KTM's 2021 890 Adventure models come with extra power and torque, a more sophisticated electronics packages, plus refinements to suspension, clutch and brakes.
---
890 ADVENTURE MODELS – PRICING IN OZ
KTM Australia has confirmed that the 2021 890 Adventure R comes with an RRP of $22,670, and a recommended 'Ride Away' price of $24,470. That compares with $23,395 for the 2020 790 Adventure R, or roughly an additional $1000 on its predecessor.
But how do those prices compare with the rest of KTM's 2021 Adventure range? Here's a summary of the recently announced prices, all of which are listed as "Ride Away" (in other words, they include all pre-delivery and on-road costs):
2021 390 Enduro: $9390 Ride Away
2021 690 Enduro R: $18,595 Ride Away
2021 890 Adventure: $22,550 Ride Away
2021 890 Adventure R: $24,470 Ride Away
2021 1290 Super Adventure S: $30,620 Ride Away
2021 1290 Super Adventure R: $32,130 Ride Away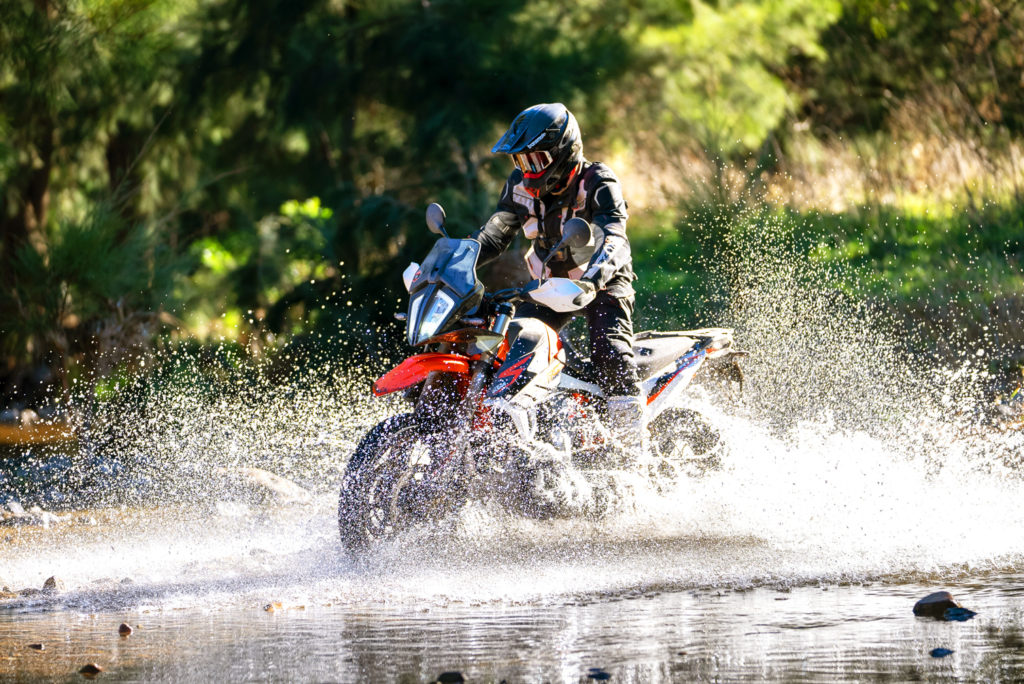 You might also like...