2019 WR450F: Bang-For-Buck Mods
7 months ago | Words: Andy Wigan, Jarrad Duffy | Photos: Jarrad Duffy, Yamaha Motor Australia
Yamaha has copped some heat in recent years from the race-oriented end of the off-road rider spectrum, mainly because the past two 'new-gen' versions of its flagship WR450F – the 2012 and 2016 models – were both a bit of an overweight disappointment. Which is exactly why guys who'd be waiting for a hard-nose, race-ready enduro weapon from Yamaha with 100% off-road DNA were frothing when the all-new 2019 WR450F arrived 12 months ago – literally for Christmas! They loved the fact the new bike inherited a majority of its MX cousin's updates, along with a raft of enduro-specific mods that positioned it much closer to Europe's race-bred enduro weapons.
According to the WR450F's sales figures, trailriders have also gravitated towards the new WR450F. And we can see why: its versatility. In spite of the 2019 bike's lighter, more agile, racier character, it still offers recreational riders a stable and super-predictable ride with world-class suspension and proven reliably.
But how can this much-evolved 2019 WR450F be improved, or adapted to you? Well, we've raced, ridden, maintained and lived with a 2019 WR450F project bike for the best part of a year now, and can identify a few cost-effective mods that make this impressive machine even better…
PARTS FITTED…
FREE-FLOWING EXHAUST
The bike's standard muffler may not look cutting edge, but it does a very effective job of taking the abrupt edge off this MX-bred engine's power delivery to create a linear power curve, and exceptional traction in the bush. That said, because the OEM muffler is heavy and long and swings off the back of the bike, we fitted a GYTR/FMF PowerCore 4 Slip-On muffler and FMF S/Steel Megabomb Header Pipe. In addition to looking and sounding better, the GYTR/FMF system also saves about 1kg. And even without a mapping change to complement it, this bolt-on adds noticeably to throttle response (which the standard bike lacks at lower RPM) and short-shiftability. In slick conditions, however, this punchier power makes it harder to get the thing hooking up. So you do need to marry the GYTR/FMF exhaust with the softer traction map (and ideally, taller gearing) to retain tractability. In really slippery conditions, we'll even revert to the standard exhaust system, simply because it offers the smoothest power and best traction.
FINAL GEARING
The standard gearing (13/50) works well with the standard exhaust and mapping. But with the snappier power the aftermarket exhaust creates, we found that a taller 13/48 final sprocket combo is really effective. Rather than constantly shifting between second and third gears, the taller gearing allows you to hold second gear for a greater majority of slower corners and draw smoother flowing lines. As a matter of interest, we also tried a 13/52 final sprocket combo (which is much shorter than standard). It allowed us to carry third gear more often in the bush, but didn't offer the lengthened gear spacing that the taller 13/48 gearing gave us, which works so well with this bike.
TALLER SEAT
The bike's lower seat height for 2019 definitely helps centralise the machine's overall mass and makes it easier to control in slop and extreme terrain. But the shorter seat-to-peg distance also makes the legroom a little cramped for taller (and even average-height) riders. And once we sampled the taller seat that Aussie enduro icon, Geoff Ballard, had fashioned for his own WR450F, we immediately fitted a GYTR Tall Seat. In addition to giving your legs more room, this taller seat also puts you in a more aggressive, more central position on the bike, which helps weight the front-end and keep the front wheel planted better through turns. It also makes it easier to move from seated to standing position and, because it's a bit flatter, allows you to move around the cockpit more freely. Plus, with more foam, the tall seat is also noticeably plusher on your arse cheeks on those longer rides.
NEKEN SFH BARS & GRIPS
Some people reckon the standard bars on the 2019 WR450F are a bit low, but we like their height and sweep and the control they give you over the bike's front-end, especially through flat turns. So, how come did we replaced them with a set of Neken's all-new SFH (Smooth Feeling Handlebar) bars with the same (Yamaha 101) bend? Because this new Neken bar is claimed to be 40% lighter, yet stronger. And it allows us to fit grips that are way more forgiving than the rock-hard things the WR450F comes with. Admittedly, that sounds like we're throwing the baby out with the bathwater. But hear us out. By using tubing with a 5mm smaller outer diameter under the grips, Neken's SFH bar – when paired with the SFH Grips – is much kinder on your hands. How so? The SFH Grips use more material (4mm wall thickness, versus the 2mm on most conventional grips) to reduce vibration transferred back through the rider's hands. The things genuinely work when it comes to increasing 'mechanical' grip on the bars, and reducing blisters and general hand soreness after long rides. Incidentally, Neken has just released an additional SFH Grip option (with an outer diameter of 26mm) to suit riders with smaller hands. The only downside we can see with the smaller ID of these Neken SFH bars is that they don't accommodate bar-ends or fastening hardware for full-wrap hand guards (though it's simply a matter of time before hardware to suit the SFH bars starts to appear). And with the SFH Grips' Kraton rubber being softer than average, you do need to use a slow-setting glue (such as Loctite Super Glue 3) to ensure it doesn't eat the rubber.
FRESH TYRES
The standard Metzeler tyres aren't bad, but Michelin's new range of Starcross 5 hoops offers another level of performance altogether. Plus, we like the fact that the StarCross 5 front comes in a couple of options: an 80/100-21 and a taller-profile 90/100-21. With its with extra sidewall and larger contact patch, the 90/100-21 has better steering precision, bump absorption, pinch-flat resistance, and predictability, and is best suited to trailriding. The 80/100-21 tends to work better for more experienced riders/racers who need to deal with deep ruts more often. We found both Soft front tyres to be very versatile, offering excellent traction and predictability in a wide cross-section of terrain, while it's more important to match the StarCross 5 rear tyres to the type of terrain you're riding. The Soft-Terrain 120/90-18 gives you great grip, but noticeably more wear than the Medium-Terrain 120/90-18. In other words, racers are likely to prefer the Soft/Soft combo, while trailriders will gravitate toward a Soft/Medium pairing for front/rear.
UNDERSIDE PROTECTION
The plastic bashplate that comes standard on the WR450F offers decent protection. It's a much better unit than its predecessors (mainly because of the added protection is gives the radiator hoses), but can be prone to ripping off if slammed hard enough. So to beef up the bike's underside protection in extreme terrain, we fitted a GYTR Enduro Glide Plate. The beautifully made alloy guard bolts on to the existing mounts with two 8mm hex-head bolts, and offers way more protection for frame rails and engine cases. That said, the alloy is loud as all get-out when it hits obstacles. And it deflects more engine noise back to the rider, which can get annoying. So, unless we're riding extreme terrain, we revert to the standard hard plastic bashplate.
REAR BRAKE
You seldom hear riders complaining that their rear brake is lacking in power, but most admit they'd prefer more feel – especially on slippery grasstrack or when you're getting a bit fatigued. That's exactly why we fitted GYTR solid rear brake disc. It retains the OEM disc's 245mm diameter, but allows you to apply more pressure through the pedal before it'll lock the rear wheel. The solid disc also reduces brake pad wear, especially in muddy and/or sandy conditions.
GRAPHICS KIT
When you're customising a bike it's hard to go past tricking it up with a custom graphics kit. It not only looks the goods but it keeps your plastics in better condition for when it's time to upgrade. We worked with our good mates and family owned Aussie business, DMK Designs on our kit. There kits are good quality and are pretty easy to install at home in the shed with the help of a couple beers.
We also got them to knock up a small black seat cover for the bike's fuel cap/front seat section to match the black finish on the GYTR Tall Seat.
PIVOTING LEVERS
For insurance against lever breakages in a small crash, we fitted GYTR's spring-loaded Pivot Levers for both the front brake and clutch. Compared with their OEM equivalents, they're significantly stronger and have a more refined feel, plus the clutch lever comes with a reach adjuster (the OEM lever doesn't). As the GYTR clutch lever creates a slightly heavier pull, however, we use it only for grasstrack and MX tracks, where we prefer the feel of its more direct take-up. For technical trails, we use the OEM lever because it has a lighter and more progressive take-up, which you can comfortably use with one finger all day long.
HOUR METER
Unlike most European enduro bikes, the WR450F's speedo doesn't come with an hour-meter function (and prior to the 2019 model, the only way to check the engine's cumulative run-time was via the Yamaha Power Tuner). Admittedly, for 2019, engine run-time can now be seen on your smartphone (via Yami's new Power Tuner App), but we decided to fit one of GET's all-new SOS Hour Meters for a couple of reasons: one, you can see it at a glance (which is a constant reminder to stick to the recommended maintenance schedule) and, two, it automatically sends an alert if you've crashed and the bike is lying on its side for an extended period of time. The other benefit of the GET Hour Meter is that it's wireless, meaning there's no need to route a fiddly wire down to your spark plug and coil.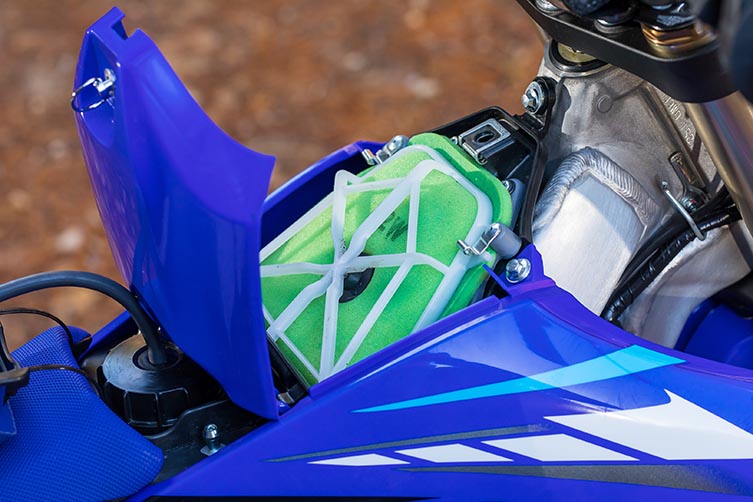 MAINTENANCE
These new-generation WR-Fs are super-reliable and designed to be easy to work on. Fastener commonality is so good, you can virtually strip the bike with an 8, 10 and 12mm T-bar. Rubber grommets are used to reduce vibration and chaffing. Alloy collars ensure bolts don't pull through plastics. Cables and electrical wiring is all cleverly routed. Oil and air filter changes are a cinch. And the updated design of the fuel tank (with its longer fuel line and pump wiring) allows you to sit the thing backwards on the subframe while performing maintenance work.
Changing the air filter is now even easier. The re-designed airbox features one zeus clip (not three zeus clips like the 2018-model) and two plastic clips to keep it secured. This not only speeds up the process of getting to the filter, but it provides a much neater finish. Once in the airbox, you can simply push aside the two locking pins and remove the filter.
With any high-performance engine, feeding it the correct lubricating life-blood is critical. When we're going hard on the bike, we run Yamalube's specifically made, friction-modified 10W-50 fully synthetic 4-R four-stroke engine oil. For longer, gentler trailriding applications, Yamalube's semi-synthetic 10W-40 oil is probably a better (and more cost-effective) option. Yamalube also offers a practical oil change kit (it includes 2L of oil, an oil filter and rubber O-ring, and the copper gaskets for the drain plug).
TUNABILITY
It is relatively easy to tune this machines power characteristics, log your favourite setups, and keep on top of maintenance schedules through Yamaha's Power Tuner app. And best of all it's free! Gone of the days of paying $300 for a Yamaha Power Tuner, you can now do it all on your phone. We found this app especially useful to dial in the extra power the GYTR by FMF exhaust system through the app's mapping function. It takes a little bit to get your head around how the fuel and ignition timing affects the bike but you can't go too wrong because Yamaha has built it so you can't blow the bike up if it's mapped wrong – it'll simply run shitty. But when you get it right for the locations you ride and the conditions, it's magic. Overall it's a great system that you should spend the time working on to customise your ride.
---
MORE ON THE 2019 YAMAHA WR450F
You might also like...