Tested: Michelin Starcross 5 Tyres
1 year ago | Words: Andy Wigan | Photos: Jarrad Duffy, Sal Aloisio
We first sampled Michelin's StarCross 5 tyres when they first arrived a couple of years ago, and quickly became fans – albeit after coming to terms with their thinner carcass construction and the corresponding need to run higher air pressures. And now that we've reacquainted ourselves with the StarCross 5 hoops, which we're running on our 2019 Yamaha WR450F project bike, we've had the opportunity to more thoroughly test both Soft- and Medium-Terrain options, and both the 80/100 and 90/100 sizing in the 21-inch front. Here's what we found…
WHAT IS IT?
Released back in 2016, the StarCross 5s represent the most significant upgrade to Michelin's off-road tyre range in many years. The biggest departure from their predecessors (StarCross 3 and 4) is an all-new, 15% lighter two-ply casing design, coupled with the use of higher-density, more durable materials. The StarCross 5s come in Soft-, Medium- and Hard-Terrain options and in a wide range of sizes for both trail/enduro and motocross bikes. We've predominantly tested the Soft and Medium fronts and rears, so our feedback focuses on those particular hoops.
"With the StarCross 5 tyres, front and rear, it's really important is that you run slightly higher pressures than normal."
WHY WE RATE IT…
Options up Front: It's cool that the StarCross 5 fronts come in a couple of sizing options as they each deliver noticeably different rides and suit varying conditions. The more conventional 80/100-21 is probably still the most versatile front tyre. Compared with the 90/100-21, it's more predictable over rocks and roots; it maintains traction better at greater lean angles; and gives you a more precise feel heading into and out of deep ruts. On the flipside, the higher-profile 90/100-21 delivers a noticeably plusher ride (as it's more forgiving on square-edged bumps), better pinch-flat resistance and superior grip levels for general cornering and braking. In very rutted conditions, that broader footprint does make them want to climb the walls of deep ruts more, but on all other surfaces, we found the 90/100 sizing offers superior steering precision, bump absorption and predictability.
The Soft Front Rules: We're big fans of the Soft-Terrain options, front and rear, because they're so versatile. While the Medium front is great in the conditions it's designed for, we found it doesn't match the Soft's grip levels in either soft or, strangely, hard terrain. The Soft front is superb on loam and grasstrack, and yet still offers plenty of traction in hard conditions, where it remains surprisingly wear-resistant.
Soft or Medium Rear?: The Starcross 5 Soft and Medium rear tyres are similarly versatile, offering excellent grip, feel and predictability across a variety of terrain. The 'Mud-Phobic Bars' (which first appeared on Michelin's Enduro Comp 6 a few years ago) used on the Soft rear are effective in preventing dirt build-up between the knobs. It delivers excellent drive in soft and medium terrain, but does wear noticeably faster than the Soft front (and Medium rear) on harder, rocky ground.
A Question of Pressure: If you want your StarCross tyres to grip and last, it's critical that you heed Michelin's recommendation to run slightly higher pressures than normal. Why? Because at conventional pressures, traction and durability is compromised (and because, at conventional 12-14psi pressures, the Starcross 5s actually feel like you're rolling on 8-10psi). Running the recommended 14.5-17.5psi is to 'offset' the added flex that's been built into these tyres' sidewalls (the thinner, two-ply carcass is specifically designed to improve 'give' and traction). The higher pressures also ensure the hoops don't roll on their rims, which will accelerate wear and/or throw side knobs, or give you pinch-flats.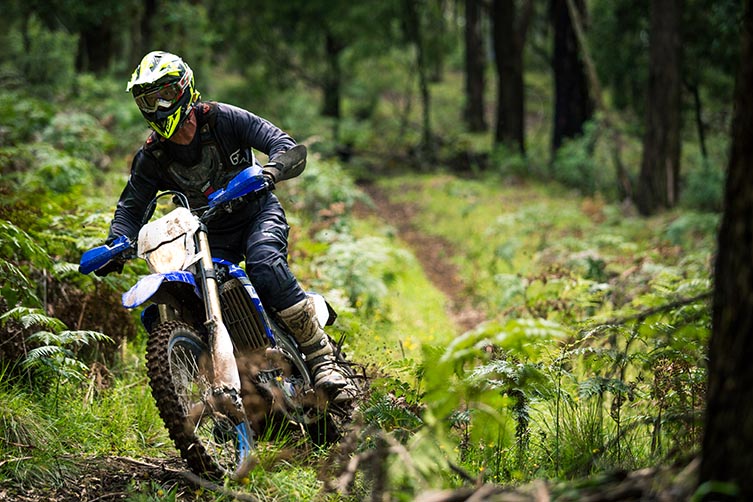 WHICH HOOPS SUITS WHO…
With its offers superior steering precision, bump absorption and predictability, we reckon the 90/100-21 front is best suited to trailriding, while the 80/100 tends to work better for more experienced riders and racers who need to deal with deep ruts more often. From a compound point of view, we found both Soft front tyres are enormously versatile, offering excellent traction and predictability in a wide cross-section of terrain. Compared with the fronts, it's more important to match the StarCross 5 rear tyres to the type of terrain you're riding. The Soft-Terrain 120/90-18 gives you great grip, but noticeably more wear than the Medium-Terrain 120/90-18. In other words, racers are likely to prefer the Soft/Soft front/rear combo, while trailriders will gravitate toward a Soft front, Medium rear pairing.
PRICE & AVAILABILITY
You can pickup the Michelin hoops from any of Australian importer, Gas Imports', stores for the following RRPs; $109.95 80/100 front tyre, $114.95 19/100 front tyre, $139.95 soft and medium rear tyres. Click here to find you closest dealer.
---
You might also like...