This is what the future looks like for Transmoto Dirt Bike Magazine
Australia's most influential dirt bike magazine is now available to you whereever and whenever you need it! Available in both high quality print and digitally enhanced interactive editions for all devices, both products feature all the interviews, bike tests, and of course pictorials that Transmoto is famous for...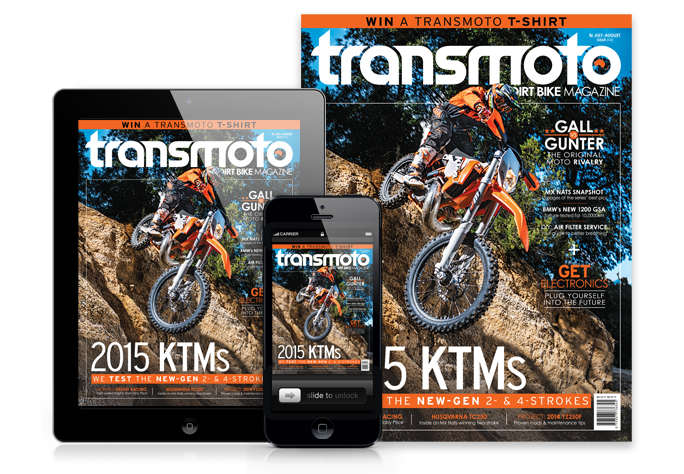 Out Now
Issue

#45

Subscribe to Transmoto Dirt Bike Magazine's print edition and get a bonus issue #1 shirt...

Featured Articles
KTM's 2015 EXC Range
Bike: Lamont's TC250
How-To: Desert Racing
Pictorial: MX Nats
Profile: Gall vs Gunter
DIY: Air Filter
Project: 2014 YZ250F
2014 BMW R 1200 GSA
GET ECU Technology
Righto, I want to Subscribe to this awesome magazine!
Subscribe to the
Print

Edition
Your benefits
12 issues of Australia's premium dirt bike mag delivered to your door
Save 30% off the newsstand price
Free postage
All cover DVDs and gifts included
Subscribe to the
Digital

Edition
Your Benefits
Transmoto's best value subscription
The fastest way to get the latest issue
Each issue is full of digital extras
Available on all popular platforms and devices
Can I get my hands on back issues?
Sure you can. Just click on the issue you're missing to purchase.
Check out the online magazine extras!
Giorgio Sartori introduces the benefits of the App, "Wi-GET" that's designed to work with GET's ECU.
3 days ago
Allow KTM's Toby Price to slowly usher you through the high-speed world of desert racing.
3 weeks ago